FFKM COG Resist®: In a class of its own
---
In all sectors and applications, the requirements are becoming ever more complex: Not only must seals be resistant to temperature; they must also be able to withstand a wide variety of chemicals. They must be resistant to steam – as well as to solvents. Or they need to be able to resist changes in media, plus high pressure. Only seals made from the very highest quality elastomer material meet these requirements. FFKM.
The O-rings in this family come into their own right there where other elastomers reach their limits. They are used in vacuum engineering and in the chemicals industry; in the semiconductor industry as well as in bio-analytics, and are also used in the oil and gas sectors.
For this reason, COG developed the COG Resist® range of FFKM materials. With these benefits:
The greatest chemical resistance of all the flexible seal materials
Stable at high temperatures of up to 325°C, depending on type used
Low compression set
Outstanding vacuum behaviour
Flexible in its application
A suitable material for the widest variety of requirements
Large number of certifications
Ring diameters of up to 2,000 mm possible
Long life, more performance: Efficiency gains thanks to COG Resist®
---
Choosing a suitable high quality elastomer seal pays off doubly: Thanks to ist longer service life, the intervals between maintenance are longer. But the opposite also applies: the use of seals that are initially seemingly economical can result in enormous costs.
COG Resist® offers quality that pays for itself: Its period of deployment is remarkable, and the high performance material requires considerably less maintenance. That really is top class, from performance to service life.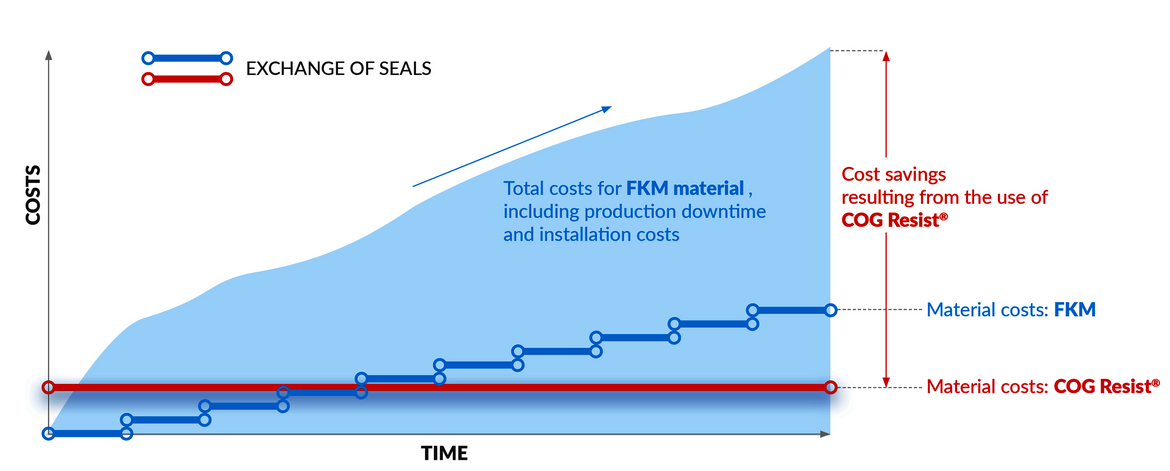 Made available for you: Further info
---
Get an overview of our range of FFKM materials. Or learn more about COG Resist® in our brochure.